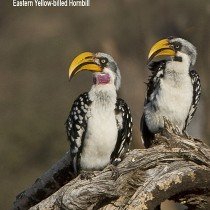 May 2011
Most people usually think of the "Big Five" when they associate the wildlife of Africa: Lions, leopards, water buffalo, rhinos, and elephants. Seldom are the birds given a great deal of thought… initially.
Often, midway through my tours, a guest will suddenly pop up with a comment about how many birds they've been able to photograph and that they had no idea there were so many different species.
Little they know, but they can attribute a lot of that success is due to my experienced driver and guides who are not only educated about the native species, but often times are devout wildlife experts and bird enthusiasts in their own right.
Over the years and countless trips, I've encouraged the guides to learn about the basics of nature photography to help them better understand the specific needs of my photography safari clients.
When dealing with nature it's all about being in the right place at the right time. Which is why our guides have been instructed on the basics of lighting, angles of a shot, judging distances, etc. This ensures that when that great photo opportunity suddenly pops up, they know exactly what to do– and do it quickly!
Thanks to their expertise we rarely have an issue getting an photo we want. In this newsletter I feature some of my favorite birds of Africa!
As my past Africa photography safari clients and frequent readers of my newsletters know, there's one special feature rarely seen in African tours: two photographers per safari van, not four. You'll enjoy the freedom (and elbow room) to get the shots you're after!
I've talked a lot about photography, but I want to stress that you don't need to be a photographer to enjoy my trips– just someone that loves viewing African wildlife in its natural habitat.
Both my guides and I strive to make every wildlife adventure or photography tour, regardless of the destination, memorable.