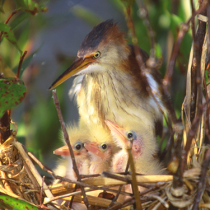 Newsletter #121
It has been awhile since my last newsletter as we have been hard at work developing a "new & improved" updated website:  www.natureandwildlife.com
The site presently houses over 1200 (and always growing!) of my images from all over the globe, which are readily available for your viewing pleasure, or conveniently setup & priced for purchase directly off the site eliminating any middleman.  We call it my "Stock Shoppe", which is side by side to the "Gallery of Images".  Have a look!

The season is about here for those of you who love all of nature and wildlife, as Florida is a mecca for both, not to mention beautiful, balmy weather.  The migrating birds are settling back in for the winter.  Nesting, partnering up, feeding and flight shots are readily available for great photographic images.  The weather has cooled off allowing us long comfortable days out in the wild allowing for more photo 'opps'.  I've have some dates to share for the Pontoon Putts on the St. John's River in Central Florida.  I've been cruising this river for over 30 years on one of my many owned flat-bottomed, or fiberglass-type pontoon boats.  I keep the group to a minimum of no more than six participants per trip giving everyone plenty of space for tripods, bean bags, & camera gear, and my cooler full of snacks & goodies.
Early on in my quest for wildlife photos, I realized the critters usually return year after year to where they were born and raised—or nearby—making my job (hobby!) easier.  Your very nice accommodations are right on the river, allowing us early morning, quick access to the wildlife and late afternoon to dusk when the feeding is done out in the open.
Right now for 2012, I have two firm dates:  March 26th thru the 29th and April 2nd thru the 5th (check out by 10:00 on Friday).  Please visit my new website for more pictures and details.

Also, keep in mind I'm usually available to customize dates around your schedules, and have ½ day & full-day "Strolls with the Pro" in the Ft. Lauderdale to Palm Beach areas.  I'm flexible and open to work with you. Soon, I'll be sending more information on the 2012 Africa Tours and the Pantanal, Brazil Tours.  Please mark your calendars and join us at the Kennedy Space Center Wildlife & Birding Festival on January 24th thru the 29th.
Don't forget "Keep Your Aperture Your Priority" and happy viewing!!!
Follow me on Twitter!

Joanne