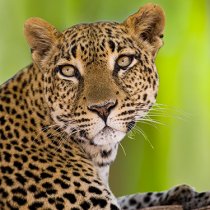 NEWSLETTER #122
This upcoming safari will be my fourteenth trip to the fabulous continent of Africa & my tenth year to Kenya!!  And I can't wait!!  I chuckle, or smugly smirk, when someone tells me they've "already been there & done that" as there is no way one trip to the dark continent can even begin to offer you the wealth & diversity of the wildlife and scenics available—not to mention to try and successfully photograph!  After traveling to So. Africa, Botswana & Zimbabwe, I've pretty much settled on the country of Kenya as my main destination in Africa for so many good reasons, but mainly the quality of the people I work with from there, the incredible wildlife (view my images on my new website  www.natureandwildlife.com and see for yourself), and the wonderful accommodations.  Safety is a key concern of mine, so I go the extra mile to ensure our gear, & personal well-being is addressed seriously by my tour hosts.  My guides, Paul, James & Peter have been with me every year thus far, as I find them tremendously helpful, educated on all subjects of Kenya's wildlife, and more than willing to accommodate our wants & needs on this fifteen-day safari.  We visit Lake Nakuru, famous for its—literally—thousands of pink flamingos that live there.  I like to drive us up the nearby mountain called Baboon Point so we can look down and shoot the 'sea of pink'!  For as far as the eye can see, the lake is rimmed in pink. This is also where I photographed my first leopard, which took me twelve years to accomplish!!  Needless to say the photo 'opps' are outstanding!!

We will travel to the huge game reserve, The Masai Mara which is famous for its big cats, as well as The Great Migration of wildebeest & zebras.  Certainly one of Nature's greatest spectacles!!
Often I'm asked to give slide presentations.  A major revelation (or shock) to me was when I gave a presentation, which was totally about my Kenya Safaris, and realized that not only did I have all the mammals, but also over 160 different species of birds in my Kenya image library!!  "Who would've thunk it" ?  When we think of Africa we think of lions, elephants, cheetahs, giraffes, baboons & leopards.  We know about the pretty & comical Secretary Bird and the strange-looking Yellow-billed Hornbills, but what about the beautiful Yellow-red Barbet, or the tiny Somali Fiscal?

I always include Samburu National Reserve as one of our destinations.  There is a wide variety of animal and bird life seen throughout this arid land. Several species are considered unique to the region, including its unique dry-country animal life:  All three big cats, lion, cheetah and leopard, can be found here, as well as elephants, buffalo and hippos.  Other mammals frequently seen in the park include gerenuk, warthogs, Grant's gazelle, Kirk's dik-dik, impala, waterbuck, Grevy's zebra, Beisa oryx and reticulated giraffe. There are over 350 species of bird. These include Somali ostrich, grey-headed kingfisher, sunbirds, bee-eaters, marabou stork, tawny eagle, bateleur, vulturine guineafowl, yellow throated spurfowl, lilac-breasted roller, palm nut vulture, red-billed hornbill, secretary bird, Verreaux's eagle, superb starling, yellow-billed hornbill and vultures.
A major feature and big attraction to my tours is that I have made arrangements with my host & guides that there will be only two people per van, eliminating unhappy overcrowding giving everyone (photographer or just viewer) plenty of room to move around, & plenty of room for their gear for maximum viewing opportunities and superior images to go home with.
There will be fifteen & one-half full days to photograph or just sit back, relax and watch the sites while being chauffeured around one of the world's most beautiful countries and all its wildlife.  Personal instruction and/or help is always available.  More details & images are on my new & improved website:  www.natureandwildlife.com
Contact me to sign up for the August 25th departure date from Miami to Nairobi, until September 10, 2012 Safari!!!
"Keep Your Aperture Your Priority"  Joanne