Newsletter 125
This year's tour will begin with a new adventure—a four-day visit to Ubatuba, a seaside city on the Southeast coast of the state of Sao Paulo, in the middle of the famed Atlantic Forest which is home to some 500 species of birds, including hummingbirds (some seen only there!), numerous mammals, and an abundance of flora.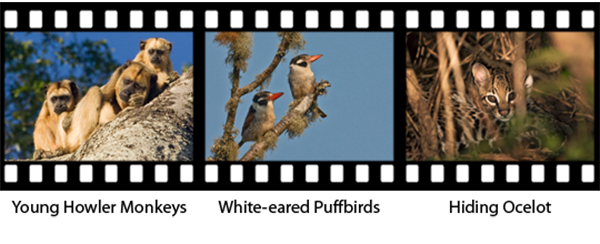 Then we'll fly from Sao Paulo airport to Campo Grande heading for the Pantanal, the world's largest inland wetland. The photographic opportunities of the Pantanal are among the most abundant anywhere in the world.  There are areas of the Pantanal similar to the Everglades, but it covers 75,000 square miles, which is ten times the size of the Florida wetlands.  It is home to 1,000 species of birds, 360 species of mammals, 480 species of reptiles, 400 species of fish, and over 3500 species of plants!
On a recent Pantanal photo workshop, I was able to capture an amazing assortment of beautiful birds such as the Blue-crowned Trogan, Chestnut-eared Aracari, Plush-crested Jay, Great Potoo, as well as the increasingly endangered and rare Hyacinth Macaws, which are fetching over $10,000 on the black market.  Many mammals such as the Tapir, Capybaras, Giant Anteaters, many monkeys, but the prize for me was the illusive Jaguar. There aren't many guarantees in life, but a Pantanal photographic safari is about as close as you can get! On my tour, I will place you in the best possible locations to maximize your chances of capturing spectacular images and lasting memories of the colorful wonders of the Pantanal in Brazil!
The tour begins June 3rd leaving from Miami airport and ends June 18th leaving from Sao Paulo airport.  The cost is $8,750.00, with a $1,000.00 due by March 1st  to reserve your spot.
What's Included?
Pontoon boat trips, Full board (rooms and meals), One night drive at each Pantanal lodge, Tips for drivers and services, Bottled water for trip duration, Professional photographic assistance available.
What's Not Included?
Airfare to and from location, Passport and visa fees, Airport taxes, Personal expenses (beverages,laundry, phone calls, e-mail/internet charges, etc.)
Come join the fun!!