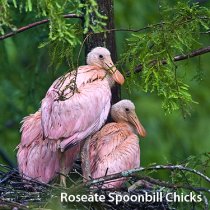 Newsletter 140
The Festival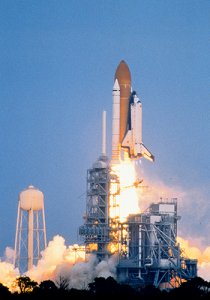 This was the Festival's 16th year and my 15th year as a participant. For me, it was a roaring success. The best part was seeing old friends & making new ones. The other 'best part' was my Keynote Address seemed very well received, went off without a 'hitch' (no equipment failure, etc.) & most everyone laughed at the right moment or 'ooooh & ahhhhed' at the right image on the screen. The double booth looked terrific, thanks to the hard work & muscle power of hubby, Tad, and our good friend Jeff. Without them, it would not happen. Of course, I'd be most remiss if I didn't mention my loyal, talented, close friend & assistant, Laura, who edits all my images for the files as well as any slide shows, listens attentively to my ideas (good & bad), especially about the music used in the shows, & patiently listens to my final product.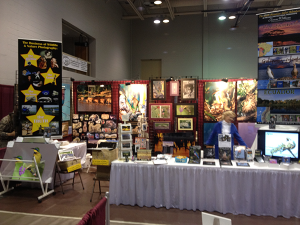 It takes me months to develop a satisfactory-to-me presentation, as first has to come the theme or idea I want to convey, then pour through the files to find the right images to go with the theme, then the verbiage is of the utmost importance, as is the drama of the music which needs to blend in. I was, and am, very proud of this final product, and loads of thanks to those of you who took the time to come by and tell me you enjoyed it. Thank you! Also, a huge "Congrats & Great Job" to Neta, Susan and all your co-workers. I cannot even imagine all the work that goes into running a festival as smoothly as you do!! You truly have developed a great team! I mean this when I say, "I'm proud to be a part of it."
Pontoon Putt
What's that quote "no rest for the weary"? I'm off now to on another four-day Pontoon Putt on the St. Johns River in Deland, Florida with a group. Don't feel sorry for me!! Honestly, it is one of the most relaxing & enjoyable tours I conduct as we glide quietly down the river watching & listening to the abundance of wildlife, as we weave in and out of beautifully draped trees covered with Spanish moss, or enjoy incredible reflections of water lilies & trees (often with birds wading & displaying their reflections in the calm waters).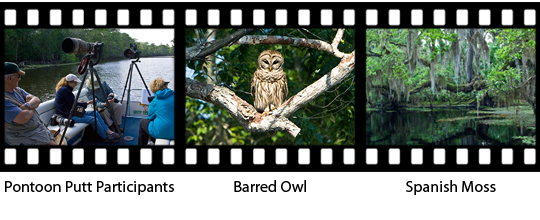 Most people really do not know the REAL Florida. This is it, 100%, and you should experience it at least once in your life. I have a calendar of "Putts", but I am also willing to try and customize a "Putt" to your time frame, wants and needs. Because the are of the river I use is very protected, we are usually not limited if the wind is really blowing elsewhere. The wildlife appreciates this also & likes to hang-out there. You should too!!!
Two New "Recon Missions" Upcoming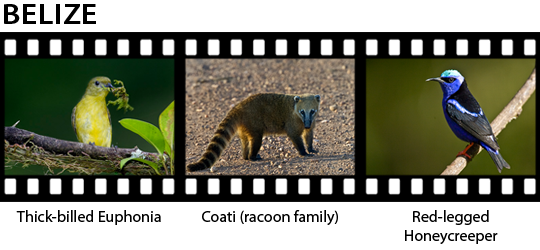 March 1st, I am getting on a plane & heading for the beautiful country of Belize, where I've longed to visit for many years. I understand there are 600 species or so fo brids, many mammals such as the Agouti, Jaguar (who wouldn't want that shot?), Ocelot (or that!)… the list is lengthy. I shall be reviewing all the wildlife, and access to it, all the accommodations I can manage to visit for the comfort, the cleanliness, the food, the electrical situation (most important) for charging, and the transportation (also a necessity to know about regarding camera gear).

During the Festival this week, we met two very nice young men from Hungary who have what appears to be a wonderful tour set-up. They spent a good deal of time with hubby, Tad, reviewing schedules, costs, destinations, accommodations, etc. while I was busy conducting in-the-field workshops. Upon returning to my booth, I saw the enthusiasm on Tad's face as the 'guys' chatted & made plans for my future!!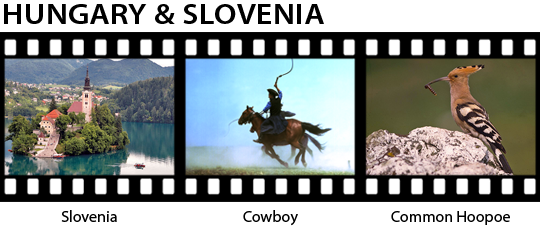 After listening for a while, I had to agree that both areas certainly did look to be viable destinations for my clients and me. However, as is always my steadfast policy, no destination gets added to my list of tours until I've gone & inspected every aspect that concerns the group myself. Therefore, plans have been made for a 'recon mission' to Hungary and Slovenia, June 25th through July 5th.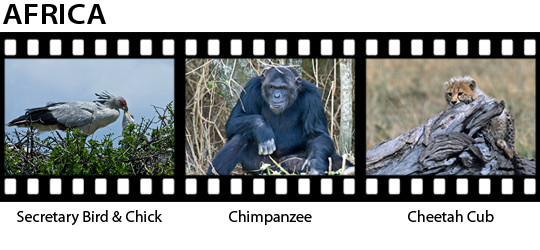 This means my trip to Kenya, scheduled to begin June 12th will be moved to late August or September. If any of you have preferences on dates, please speak up right away, as I believe I may be given some options. Kenya is one of those spots in the world that I never, ever get tired of. It is like going back to the 'beginning of time'… our time as humans, and I feel that in certain areas of the countryside, it is a truly spiritual experience.
I welcome any comments, information or advice.
Best & Happy Nature Watching,