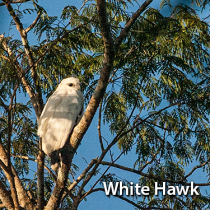 newsletter 143
As my plane began its slow descent toward the airport in Belize City, I peered out the window & was totally unprepared for the beautiful scenic below.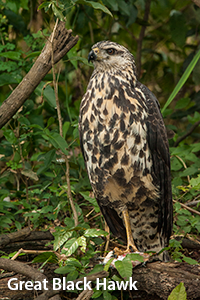 As far as my eyes could see in every direction there was a 'sea' of varying shades of green!!Nothing, absolutely nothing else was in my view but lush green colors everywhere!The portion of my brain that is devoted to wildlife & nature immediately conjured up images of stalking jaguars, fat tapirs, holler & spider monkeys swinging from the trees while vast amounts of bird species flitted & flew amongst the lush forest branches singing their various songs or calling to mates & chicks. I had heard of the forests of Belize, but my mind's eye was dim compared to the real picture. I could feel excitement building & I was glad I had come on my first "recon mission" to Belize, which was actually a last-minute trip on a bit of a 'whim'. One great attraction was the mere fact that the air travel time was only two hours, and the round trip airfare reasonable at about $550.00.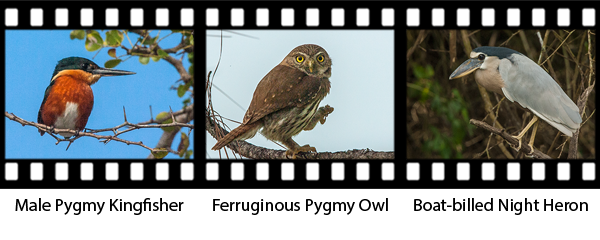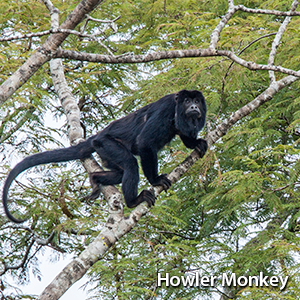 Belize is one of the smaller nations of Central America, (about the size of Massachusetts). It faces the Caribbean Sea on the east, but is bordered with Mexico (250km) to the north and Guatemala (280km) to the west and south. With a population of just 321,000, it ranks 178th in the world, while its capital city, Belmopan, situated in the center of the country, has one of the smallest citizenships with just 5,845. Information on the internet states that Belize has 587 bird species recorded, and of these, approximately 20 percent are migrants from North America. Every year, I am told, new species are being reported. There is a healthy population of mammal & reptile species, however, I wasn't a visitor long enough to document fully any of that. The butterflies & flowers are abundant and beautiful.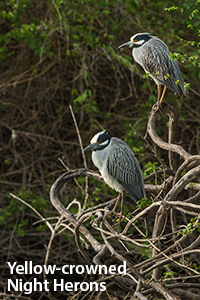 A "recon mission" is just what it says, and it is always important for me to get as much information as I possibly can in a short span of time. When doing this, I try and align myself with the most knowledgeable & experienced guides I know. Belize is known mainly for being a wonderful birding destination & devoted birders come there from all over the world. I love the birds, but I am a photographer & photography tour leader of all wildlife & nature. I knew I would need the 'best of the best' in experience & knowledge of what Belize had best to offer.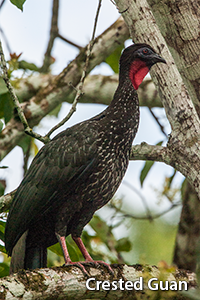 I knew exactly who to turn to in order to achieve that end and that was Victor Emanuel Nature Tour company. For a number of years Victor & I have stood across from each other in our respective booths at the Kennedy Space Center Wildlife & Nature Festival. I had grown to respect his type of operation and trust his judgment in the character & quality of his employees & guides, and I wasn't disappointed when I asked him to help me out with this 'recon trip'. I had the great good fortune to have Barry Zimmer as my guide, totally solo for the first few days, then with a group of four more — highly knowledgeable — guests of Victor's. Not only was Barry a delightful, pleasant, enthusiastic & helpful traveling companion/guide, but his knowledge of the birds blew my mind away!! I have to note here, that I was also extremely impressed with the local people of Belize & their knowledge of what their very own world has to offer them—-and they take care of it!! Imagine that!! Taking care of your environment—how refreshing it was to see & hear!!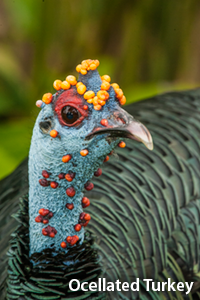 To 'cut to the chase', I loved the country, the people were friendly & delightful, the food was delicious, hearty, healthy & homemade (sadly I have 6 lbs. in seven days to prove that point!). The accommodations where I stayed were outstanding, but I still cannot figure how the powers-that-be got such luxuries out to these remote locations! (ie. refrigerators, large fancy fans, nice furniture and fresh cold water dispensers in each room). There is no vast road system that can take large vehicles that I could see, the airstrips are designed for smallish planes, and there is no way a boat can bring anything in as there is nothing for it to float on/or in—-oh well, it all just adds to the mystery and intrigue. To really add to the mystery & charm of a visit to Belize, is to include exploring the ruins of some of the Mayan civilization and learn a bit about their culture. That is fascinating & another whole newsletter!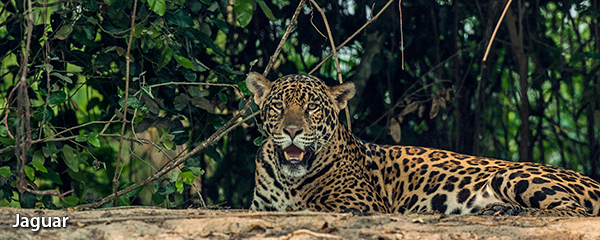 In short, I will be planning a wildlife & nature photo tour for next year—perhaps February, which was a suggestion made by one of the lodge managers. He felt that mating, nesting, babies born (avian, mammal & reptile) was even more prevalent at that time. As time draws nearer & the plans become more definite, I'll be letting everyone know via newsletters. However, I'm now starting a list of those interested, which means I'll contact you directly first thing giving you the opportunity of 'early sign on' or 'first refusal'. Just drop me an e-mail—-there is absolutely no obligation!!!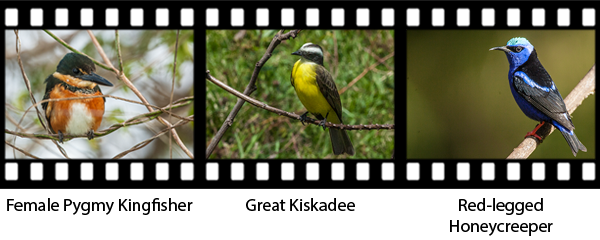 "Keep Your Aperture Your Priority"