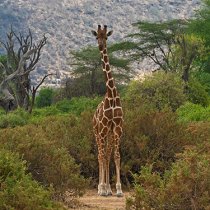 Newsletter 160
Don't let this one get away!


You will be visiting some of the most alluring mountains, lakes, rivers, savanna grasslands & deserts as we make our way through the picturesque Masai Mara Game Reserve, Samburu Game Reserve & Lake Nakuru National Park in Kenya on your African Photo Safari.
For the first time, a third optional week will be added for the more adventurous tour participants. The 2-week tour, September 4th through September 19th, will last 16 days. The additional week will extend your stay until September 26th, 23 "photo-tastic" filled days.
To be very clear, the Safari/Tours to Africa are definitely NOT restricted to photographers, but to all wildlife & nature lovers. Actually, if you think about it, when you travel with a committed nature photographer, your chances of getting 'up close & personal' to the critters are far greater than traveling the general tourism route.
Don't delay, there are still a few spots available! For more information on the Africa Photo Safari, please visit www.natureandwildlife.com.

Let me show you why I love returning to Africa every year!