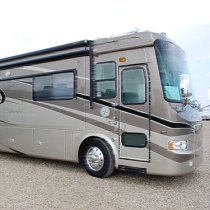 Second Leg
DAY 1 – Wednesday June 24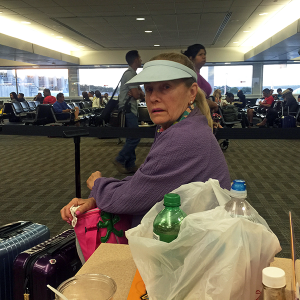 Well it time to bounce out of the sack and get going at 3:45 am. The car service was picking us up at 5:30 am and off to the airport for our 8 am flight. Thank god we only had carry-ons as the line outside Spirit Airlines for checked baggage was the longest line I had ever seen. It ended up outside the building somewhere. Fortunately, we had boarding passes and went straight through security. Flight was actually great and my new Bose earbuds got a good test drive. We arrived on time and car service took us to our motorhome. Did some basic vacuum and cleaning and off to Krogers for $300 worth of essential necessities or so we think. When we got everything packed up, I decided to see if the generator would start. It was never fixed from the last trip. So as expected it didn't even turn over. I quickly placed a call to our Dallas generator guy and he said reluctantly bring it in. So I went to close all the slide outs so we could drive and they wouldn't budge. Now we were really in a pickle. Our inverter panel was beeping like we were getting a phone call. I wished it had been an RV dealer making me an offer on this damn thing!!! Apparently by turning off the inverter it reset it. Before I tried that, I had called the place we were staying and extended us another day as it was clear we weren't  going anywhere. I also called the motorhome park we were planning to stay at tonight and cancelled our reservation.  Now after calling the generator guy to tell him we couldn't come he gave me the lesson on inverters. They partly function in charging the house batteries. Since I had reset the inverter, it recharged the house batteries in about 30 minutes. Guess what?….The rooms slid in and here is the good news, the generator started. So we were ready to roll. So I am figuring this is the motorhome's version of water boarding.  I called the motorhome park we were at and cancelled tonight, called the motorhome park we were going to stay at that I had cancelled and re- reserved, and called the generator guy and thanked him for his advice. Thank god I had 2 stints put in or a heart attack could have been in my future. So we made a quick stop for $300.00 of diesel fuel and we were off by 3 pm for a 220 mile first day.
So here is the epiphany….West Texas is flat!!!  Just so you know our motorhome is still water boarding us as front roof air isn't working and the generator kept stopping again!!! I see a mobile repair man in our future!!!!!
DAY 2 –  Thursday June 25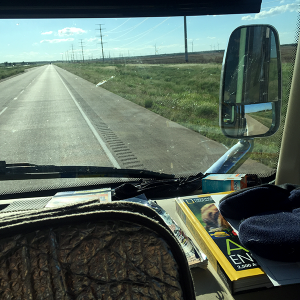 Well we awakened to good news. The broken front AC was now working. It must have fixed itself over night. Don't ask. I have no idea. So my goal was to get on the road by 9 and we were rolling by 9:30. Not bad!! We had a 420 mile trip which was all 4 lanes. So West Texas still remained flat with lots of wind farms and power lines. So it was time to gas up. Another $300 and then the bad news. I inputted the fill up data into my Good Sam GPS fuel tracker and discovered I had gotten 3.2 miles to a gallon. I had been traveling at 75 mph and obviously paid the big price for my speed. I see slowing down to 64 mph (sweet spot for best mileage) in my future.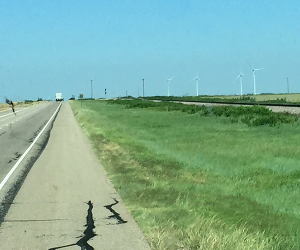 So as we got close to our turn off on I-40 West I passed it and was rerouted a few exits later. We took a very back road to get to Santa Fe which was really beautiful.  We had to climb over the a few Mesas and going down the steep declines endeared me to Jojo. We arrived safely to a very very nice motorhome park in Santa Fe and we are here for 2 nights so no big drive tomorrow. So we are ready to take on Santa Fe and take some pictures to share.
DAY 3 – Friday June 26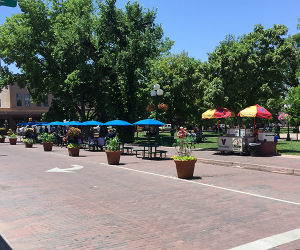 Today we took on Santa Fe and it's down town artsy fartsy area. There were a lot of shops and you needed a big wallet. The Navaho Indian presence and art was the center focus. Lots of jewelry and museums to visit. Obviously, one day was not enough time due to our trip delay not allowing more time. We dined outside at the Hotel Chimayo. Made a small mistake by sitting right on the street with the outdoor display menu right at the rail where are table was located. We had lots of visitors.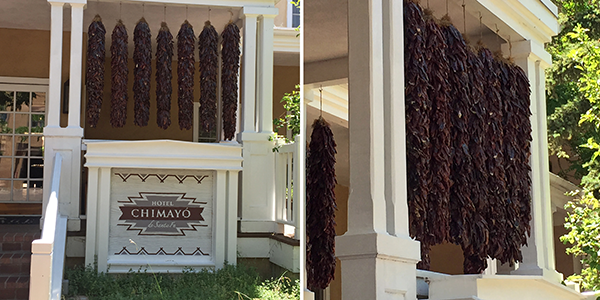 We held our purchase to one Christmas ornament which was amazing. We are still trying to see if we like the Adobe architecture. Jojo says it is not soft and is all square. It is all earth colors. Personally it is not my taste. On the way home we stopped at the Wal-Mart for dinner shopping. I managed to leave 1 bag of groceries on the turn style and nobody bothered to run after me. Of course didn't notice until we got back to motorhome for a much needed nap. I called the Motorhome Park where we are going to stay in San Diego and moved our reservation from Sunday to Tuesday to accommodate our trip change. Also got the name of a mobile mechanic and called ahead for an appointment for our generator. I will at least have 2 days there so maybe we can get it fixed. Tomorrow we leave for Sedona AZ which is another 420 mile trip which I will be traveling at 64 miles mph (lesson learned). We are shooting for a 9:00 am departure. We'll see!!
DAY 4 – Saturday June 28, 2015
So 9:00 am didn't happen, but 10 AM did. What I didn't realize at the time that Sedona, AZ was on Pacific Time. It was actually 9:00 am in Sedona. Does this count? Well it is tough being Mr. 64 mph as I got passed a lot since the speed limit is 75. It is hard for a man to get passed by big trucks and little tiny cars, but I managed. I don't know exactly how well I did on mileage, but I can tell by the gas needle and the total mileage driven that I regained my 7 miles to gallon. Funny how 10 miles per hour can make such a difference? I think I mentioned that my engine air is not working so it is a little hot in the front of the motorhome. Hopefully in Sedona I can get it fixed. We will be there 3 nights, but of course 2 of them are weekend days. Jojo and I decided that this whole idea of overcrowding is not an issue. There is plenty of land in New Mexico and Arizona for people to live. Not a tree in sight, but there is power there due to all the power lines we see. We arrive in the Sedona area and it is beautiful. We are staying about 20 miles south of Sedona in Camp Verde. The Motorhome Park I picked was rated 10/10/10 by Good Sam. This is the highest rating of all. When we arrived, it was obvious. The good news is they have an exercise room and thank god I brought my sneakers!!! Top off my propane as it was running low. Due to the generator being out, I have been running the refrigerator on propane. Also, helps on the gas mileage when the generator isn't working. Doesn't burn any extra fuel. Our site was very nice. All utilities were aligned correctly with the water electric and sewer. This is one of the reasons they are rated so high. After we were all hooked up, I decided to be bold since we were here for 3 nights and put down the hydraulic stabilizers. Remember I have had problems with the back left one not working. They all work and we are finally level for a change. No "slant boy" for me the next 3 nights. I called my mobile mechanic and diesel engine repair people, but of course being Saturday left a message. I forgot to mention that there is a major casino across the way. They were having a Beach Boys concert and they ask if I needed tickets. I was definitely too tired and concerts are not at the top of Jojo's list. We did fall asleep listening to Good Vibrations. Tomorrow is our private 4 wheel drive jeep tour from 4-8 pm. We should get some great sunset pictures.
DAY 5 – Sunday June 28

Today was the best day of the trip including first leg. Sedona is everything people told me it would be. Jojo and I drove up there and the views of the red rocks and the vastness of the area is very spiritual. It hits you in your soul. Jojo and I cruised the area in morning and had a private jeep tour planned for the afternoon, Jojo wasn't feeling well so I got to go on private tour with driver Mike and myself. It was from 4-8 pm. We got into some real back country and continued to see breath taking views .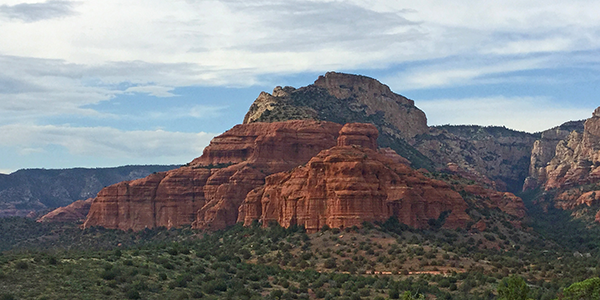 Mike was an Arizona cowboy born and raised. He grew up on a 685,000 acre ranch and ate donkey steak every weekend. He also worked for a spell running mule rides down to bottom of Grand Canyon. So I asked him how many people really fell of the ledge? In 114 years, nobody has died doing the mule rides.  I said was that due to the sure footedness? The answer was no. The real answer is mules have no fear and do not spook like horses. Learned about tarantula hawks and guava plants. The guava plant I looked at had been growing for 25 years before it bloomed and would only bloom once.

I saw Madonna's house, Oprah, Julia Roberts, Nicholas Cage, and Al Pacino. The rich and famous have decent size homes on small lots. Unfortunately, there was no sunset as storm clouds blocked the view. I guess there will be something to come back to. A lot of cowboy politics was discussed and I don't think our democrat friends would have enjoyed that part of the ride. Long day and didn't get back to motorhome until 9pm. Tomorrow I was hopefully taking on generator and engine air condition repair.
DAY 6 – Monday June 29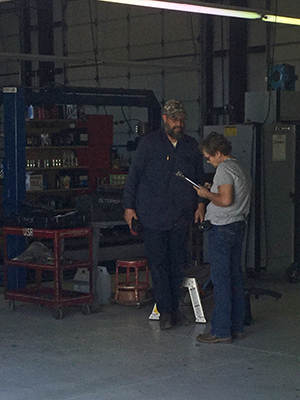 Called my new best friend Dave (sounds like a Toby Keith line in his song) a diesel truck repair man and he began to dismantling  engine air. The prognosis was the air compressor was frozen. No problem. We could wait for Tuesday to get and overnight shipment or we Jojo and I could drive to Phoenix and pick up the part …probably. So we took the gamble and off on our 200 mile round trip with old parts in the back seat. Thanks to a lot of good driving coaching from Jojo we made it there safely. They had the parts and we returned with our $350 plus gas parts. We went  grocery shopping at Wal-Mart and back to our waterboarding motorhome. So the good news is Dave fixed the generator while we were in Phoenix. He found an additional in line fuel filter that was completely blocked up and had not been changed since it's original purchase. I am not sure if Tiffin Motors knows it is there, but it works!!!!! One thing accomplished.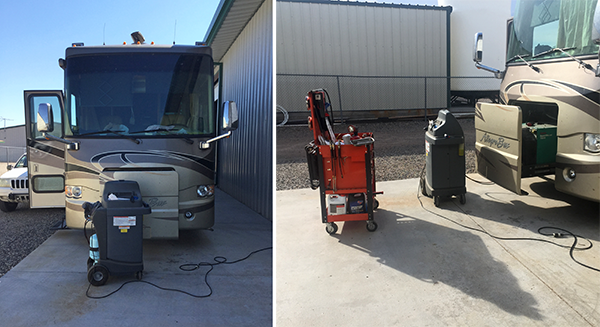 Now solving the engine air  was turning into a nightmare. After installing the air compressor and recharging the AC system with Freon, the air did not work. Dave checked every fuse breaker etc. he could find. I won't bore you with the details, but it is not working. So the big plan a 7 pm was to call Tiffin Motorhomes in the morning and let them solve the problem. We headed back to the motorhome park and re parked for the night. I had left my sewer hose at the site to mark our spot, but someone had stolen it so it was the end to a perfect day. The couple next door was very nice and the gentleman said "Oh were you here last night too" I said yes and he readily admitted he had picked up our sewer hose and had put it in his truck as a keep sake thinking we were long gone. One mystery solved. Then little things started to happen that by themselves were no big deal, but it was like our waterboarding motorhome was was haunted by a ghost. Now, no matter what I do the front steps retract whether the engine is on or not. When the engine is off the steps remain down until engine is turned on again. Then Jojo notices that the backup camera is on, but engine is not so it shouldn't be on. We blow it off and worry about it tomorrow!! We had to meet our new friend at Dave at 8:00 am to call Tiffin.
DAY 7 – Tuesday June 30
Well we didn't make the repair shop by 8 am, but were close. Dave checks a few more things for fuses and was trying to figure out our new issues with the door steps and backup camera with no success, but learning what it wasn't along the way. So now we were ready for the big call to Tiffin tech support which I was convinced would solve our problems. After starting as 7th in the queue, it took about 20 minutes to become "That Guy" #1 in the  queue.  So Anthony from Tiffin was conversing with Brad on my cell when I had a call from Walgreens which put Tiffin on hold and Dave thinking we had lost the call. Fortunately it had only put Anthony on hold and he had not hung up. Bottom line is our problem was above his pay grade and he was going to have to call us back after talking to the floor techs that were the real day to day mechanics. Now this problem was getting personal to Dave and he back traced wires from front to back and back to front with no avail. We were still waiting for our call back from Tiffin. Then Dave came into the motorhome and presented to me the 20 amp fuse and said with the biggest grin on his face. "Here is the problem"  He was right. Backup camera and steps worked properly and yes!!!!!!!!! Engine air was ice cold!!!! We had made it to the summit of Mt. Everest. The motorhome was back up and running like a Swiss watch. We had been suffering since we left home in May on the first leg. So we packed everything up and were ready to go. I jumped into the jeep to move it to a spot I could connect it to the motorhome for towing and I had left the ignition on and had run the car battery down completely. I asked Dave on the sly to quick charge the battery which we were able to do. Dave said I could leave the car running while I towed it and let the alternator recharge the battery which I did for about a 100 miles. We said our good byes to our new friends and off to San Diego. I first stopped for gas and filled up the tank. "Old 64" came through and I had gotten a record breaking!!…10.2 miles to the gallon. I have never gotten that in any motorhome. Now I wasn't using the generator or engine air, but the point was proven.We were off finally with everything working by 2:00pm with 420 miles ahead of us. My GPS was routing me on some back roads and only had a little bit of interstate driving. The driving speed was still good and faced no rush hour traffic through Phoenix. We made it to the California border and immediately had to go through an inspection station. I was pissed because I had heard California was very strict on replacement parts on motorhomes and did not permit rebuilt parts. The new air compressor for the engine air was new I assumed and not rebuilt, but I was fretting. I was never coming back to California again!!! Well the inspection stations were for illegal aliens crossing the border so that was a good one on me. We then were routed due to my GPS from I-10 to Los Angeles to Rt. 82 which would drop us down to I-8 West into San Diego. OMG what a beautiful lonely road drive. We went through farming country and a place called Imperial Dunes. That was the strangest and most beautiful area I have ever seen. All this at sunset. Spectacular!!! Of course my windshield was covered in bugs so perfect view was obstructed. We got to I-8 and still had 100 miles to go. We saw a beautiful scene at final sunset of the wind farms on the mountain side and then the moon came up. The twilight of the sky was delivering big time. To say the least, it was gorgeous!! We pulled into the Motorhome Park at 10 pm and were exhausted. I parked diagonally and sewer door was hitting the power box and would not fully open. This was the water boarding motorhome giving me its last comment of the day to me!!!   I left it and would re-park the vehicle in the morning. It was time for lights out.
DAY 8 – July 1
Today was sleep a little late and start winding down the motorhome for storage for a month. It was laundry time plus Jojo need some supplies. We were gone about 3 hours and we then hooked up with Jojo's cousin Buggy. We finally got to meet his granddaughter who stole the show. Isabella a/k/a Belle was awesome. It was good to see Pat and their daughter Molly who is very grown up since the last time we saw her. We had one more very long day ahead of us so it was lights out.
DAY 9 – July 2
We cleaned up the motorhome and found our parking space for storage. It was a tight fit, but we made itand our car service driver, Buggy, took us to an early dinner and then off to the airport. When you hear the word red eye you don't know what that means until you do it. San Diego only has 1 non-stop flight to Miami and it leaves at 10 pm and gets in at 6 am. You sleep as best as you can, but when I got home I went to bed for 5 hours. We were exhausted. We have similar flight back at the end of July, but we get in at 10 pm so we are at least going to bed at night. Next leg begins July 29 with mostly California and ending in Reno.